"Wonderful World of Fine Art"
"The Jon Kittleson Exhibit"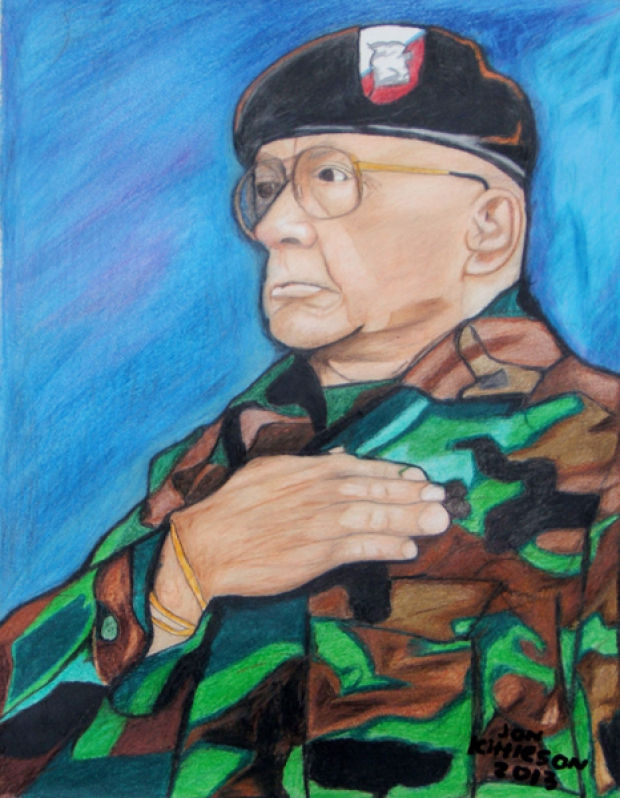 Jon Kittleson's art exhibit includes a painting of his grandfather, the late Sgt. Major Galen Kittleson of Toeterville,. who is credited with performing more prisoner-of-war raids that any other solider. Kittleson helped save 511 prisoners who were on the Bataan Death March in the Philippines in World War II. 
Despite multiple physical and health issues, Jon Kittleson continues to share his time, talent and treasures with everyone around him.
Kittleson, originally from Virginia Beach, Virginia, will be exhibiting his original works of art at the Mitchell County Historical Museum beginning this Sunday, June 9, continuing through July 21.
He is the son of Bruce Kittleson of St. Ansgar and grandson of Darlene Kittleson and the late Sgt. Major Galen Kittleson of Toeterville, a highly decorated World War II veteran, who was featured in several national war documentaries.
The exhibit will open with a reception from 1-5 p.m.on Sunday.
He began studying and producing art in 1999, when he was a junior in high school.
"I first discovered my art accidentally in middle school, after sustaining a wrestling injury," he said. "It ended my sports career and left me partially paralyzed on the left side."
Fortunately for Kittleson, he had talented art instructors in high school who helped him develop his interest in art.
After high school, he attended Tidewater Community College where he earned his Associate's Degree in Graphic Arts.
"I believe my art represents the power to overcome any challenge, mental or physical," said Kittleson.
According to Kittleson, his college art history professor described his style as reminiscent of Matisse and Chagall.
"She also described my art as new and bold," he said. "She found my approach to my subjects to be both original and fresh."
His first individual solo art show was at the Virginia Beach Central Library in March of 2004.
There he displayed 14 original pieces.
"I was very blessed to have sold half of my art within the month," he said.
Kittleson moved to St. Ansgar in 2006.
"Art for me is a form of therapy," he said. "I really enjoy creating art.
"I thank the Lord for giving me such talent."
For the past several years, Kittleson has had more health issues.
After making several visits to the Mayo Clinic in Rochester, Minn., he was diagnosed with a genetic disorder known as Rapid Onset Dystonia Parkinsonism (RDP).
In October 2008, he was forced to leave his job at Grain Millers, Inc. in St. Ansgar for medical reasons.
Since then, he started asking people in the community if they may be interested in having their portrait painted.
"I am volunteering my time at the Good Samaritan Society," said Kittleson. "I try to bring joy to the residents by doing art with them.
"I am focusing more time on creating a name for myself in my community as an artist."
Currently, Kittleson creates with oil pastels and uses colored pencils for his portraits.
"I have started to enjoy working on portraits," he said. "It brings me joy when the picture turns out just like the photograph."
He concluded by saying "other than simply enjoying creating art, I enjoy watching the different stages, from start to finish, that my portraits go through."
The Mitchell County Historical Museum is located in the Cedar River Complex, 809 Sawyer Drive, Osage, Iowa and is open daily from 1-5 p.m. and by appointment.
You can view more of Jon's art on his web site at: http://jon-kittleson.artistwebsites.com/